Vinyl Groovin' – First Vinyl Record Purchases
I think I can recall the first vinyl record (12″ LP) I bought but memories can be illusive and/or deceptive and, before that LP purchase I'm sure I bought some 45's, singles and EP's, and even before that I think the first record I received was a gift from my Grandmother. Being probably only 7 or 8 years old at the time I would often often ask for this single to be played (and more than once) when we visited Nanna and Pop's place (about every fortnight) It was the theme song for the Addams Family by Lawrence Welk and his Orchestra. What's not to like about that song! (even though it may have only been the B-side)
Some things I've found
There's a good chance I may still have it somewhere but finding it may be the hard part – when you horde too much stuff you easily loose track of where you put individual items. I have quickly come across some of the other earliest 7" records I recall growing up with. Can't You Hear My Heart Beat by Herman's Hermits, This Old Heart Of Mine by The Isley Brothers, the much played Itchycoo Park by the Small Faces and the even more played singles and EP's by the Monkees or The Beatles.
Isley Brothers 7″ – This Old Heart Of Mine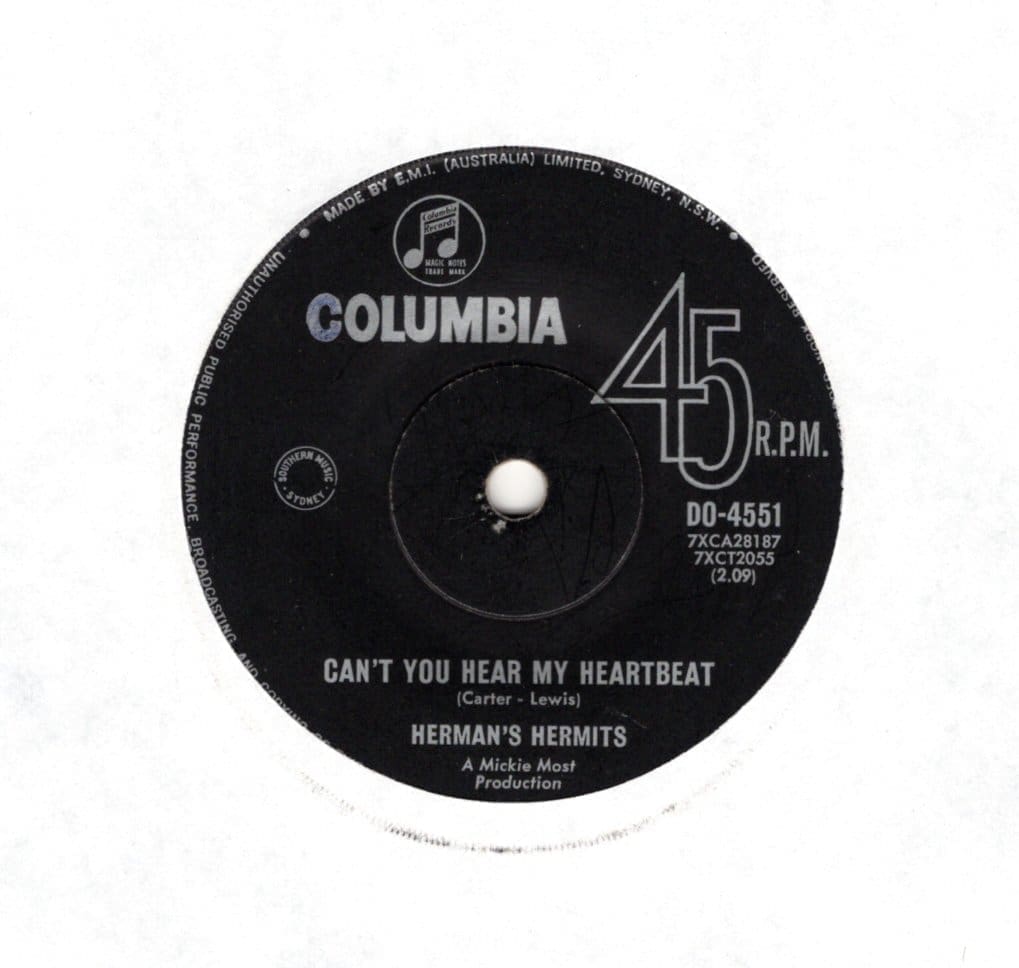 Herman's Hermits – Can't You Hear My Heartbeat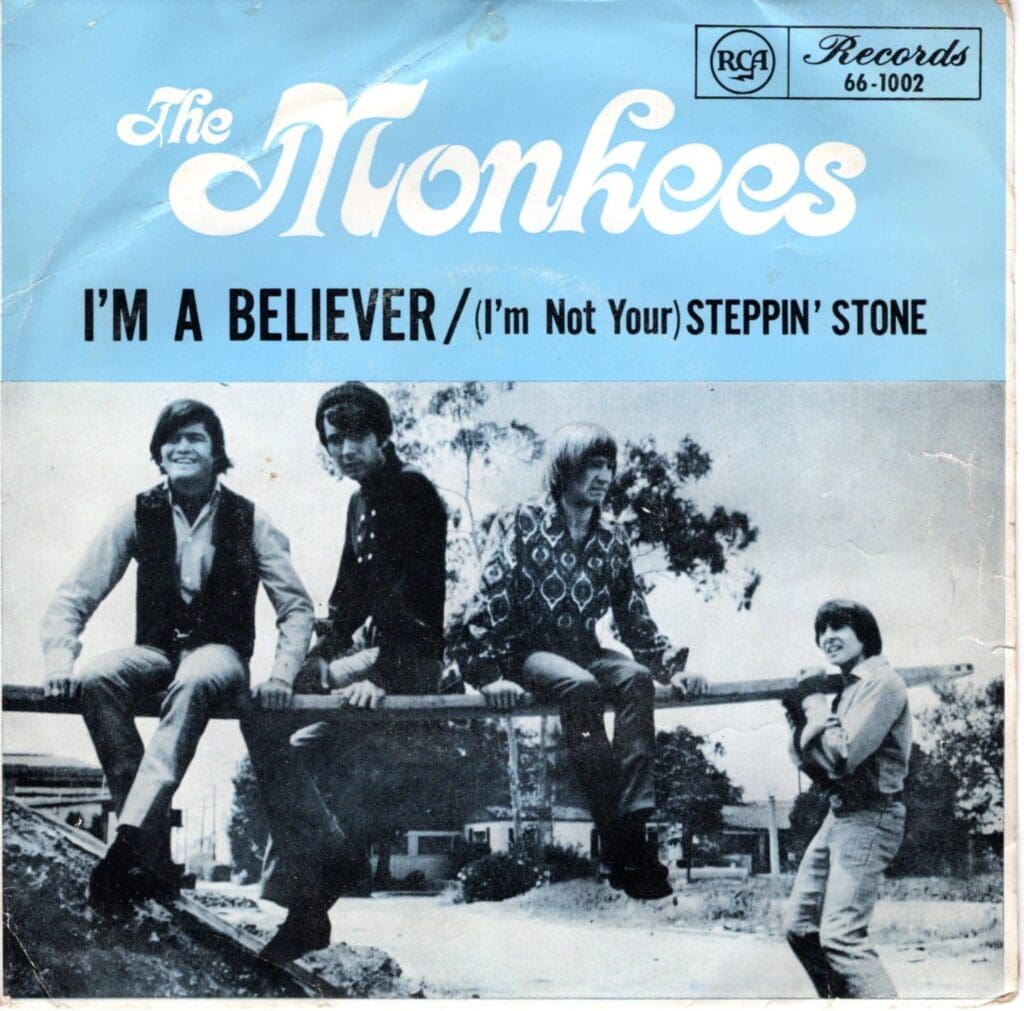 The Monkees – I'm A Believer / (I'm Not Your) Stepping Stone
The Monkees – Daydream Believer / Goin' Down
Portable record players
It was the 60's after all, and as well as a family household Radiogram / Record player – that had a stylus that you could flip over between Stereo and Mono. Not sure if that did anything or if it was just a gimmick. This wasn't an Audiophile's expensive HiFi system but we didn't care – we liked the noise that came out when we played those records. If you were lucky you also had a portable record player in a small suitcase style box that opened up enough to play 7" and 12" LP's.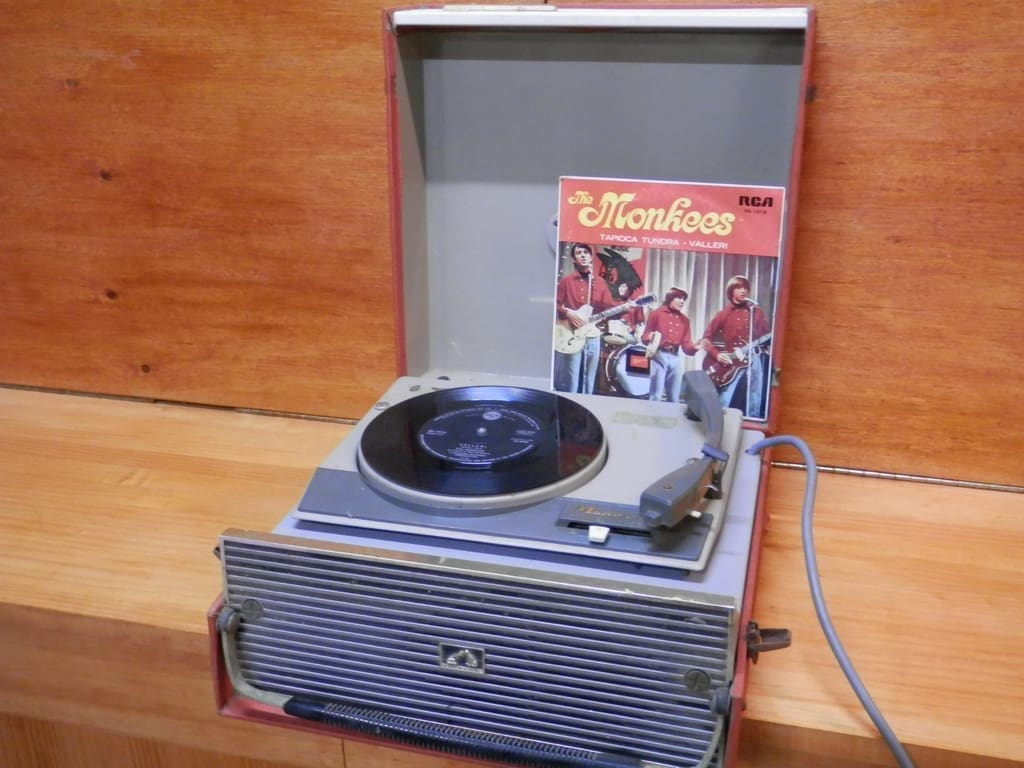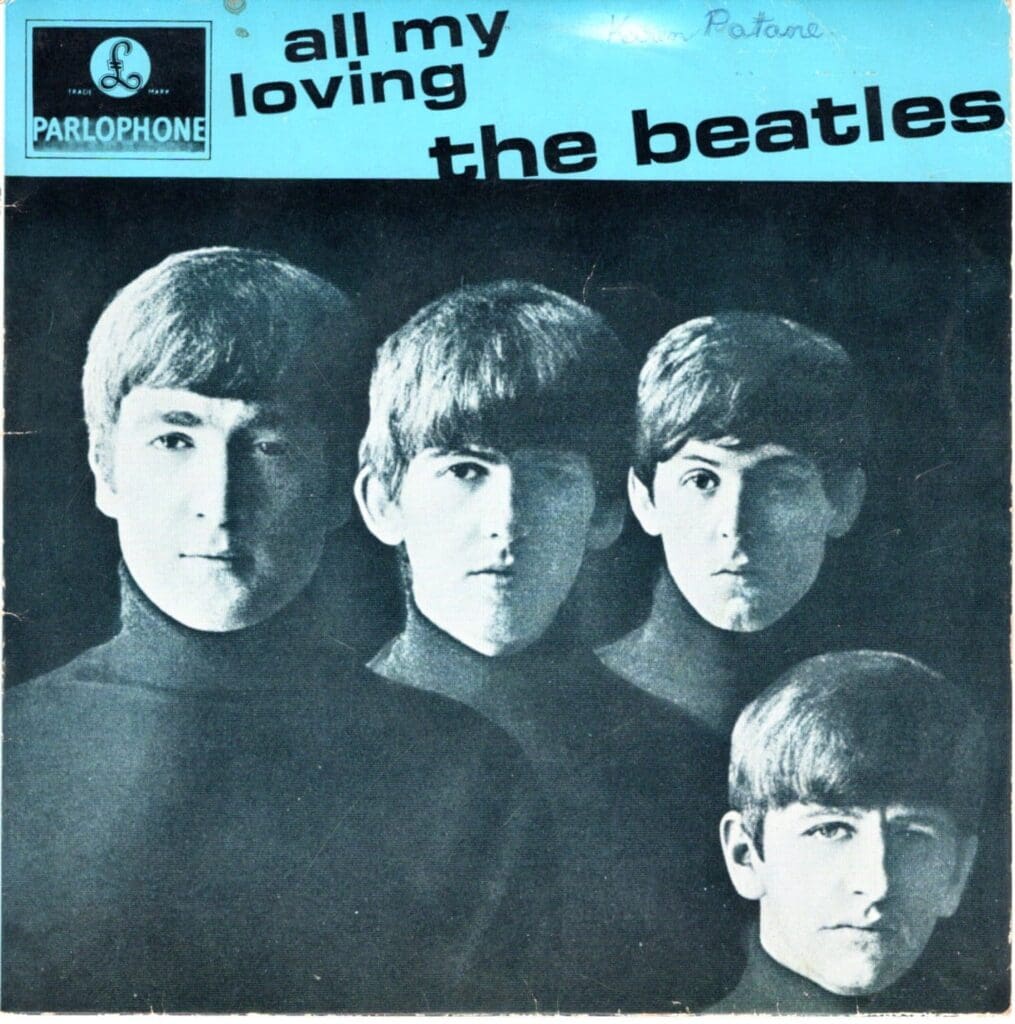 The Beatles – All My Loving
The Beatles – She Loves You
Early Favourites
Being born in 1960 and having an older sister and brother who both brought music into the house I now feel spoiled by the range and selection of pop music that was on the family turntable or coming from my siblings bedrooms. Here's some that I've thought of in preparing this post (and yes I've gone to youtube and sang along at high volume while preparing this list and I suggest you do the same) – start here https://www.youtube.com/watch?v=foepOwQlXpI
The Cowsills – The Rain the Park and Other Things
The Grassroots – Midnight Confessions
The Turtles – Happy Together
Tommy James and the Shondells- Crimson and Clover
The Mamas and the Papas – Dedicated to the one I love
Lulu – To Sir With Love
Petula Clark – Downtown
The Monkees – Daydream Believer
Elvis – Suspicious Minds
Marvin Gaye – I Heard It Through The Grapevine
Bee Gees – Massachusetts
Billy Thorpe and the Aztecs – Poison Ivy
Ray Brown & the Whispers – 20 Miles
The Supremes – Baby Love
The Kinks – Waterloo Sunset
Beach Boys – God Only Knows
Hey, you know I'm just scratching the surface, and I think most of those listed above were released before I turned 10.
First LP Record(s)
But… back to the first LP record I purchased, were I started this post, it was actually a joint purchase with my older brother. Our birthdays are on consecutive days (with a sister the next day – don't ask) but 5 years apart. We both would have got some money for our birthdays but probably didn't want to spend it all on one purchase, so we decided to pool some money for one, well actually two records, a double LP just known as the White Album by The Beatles.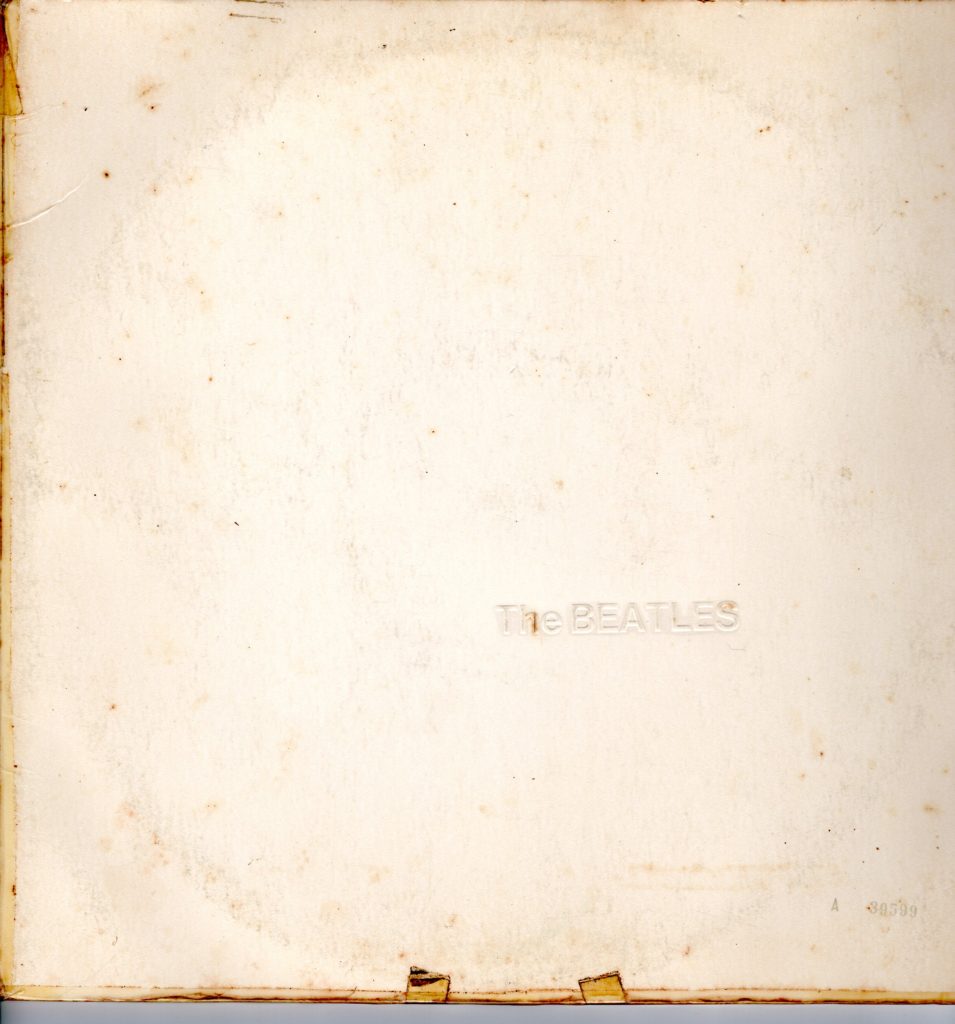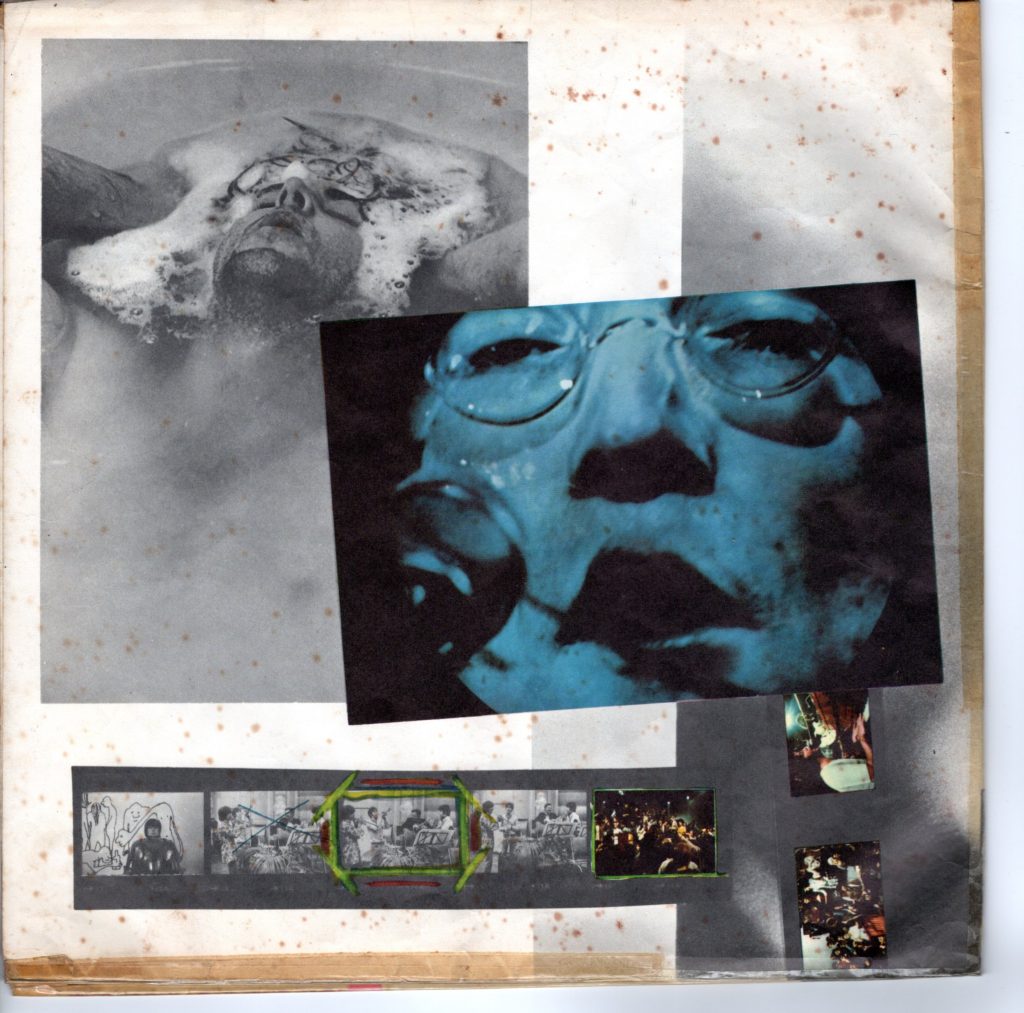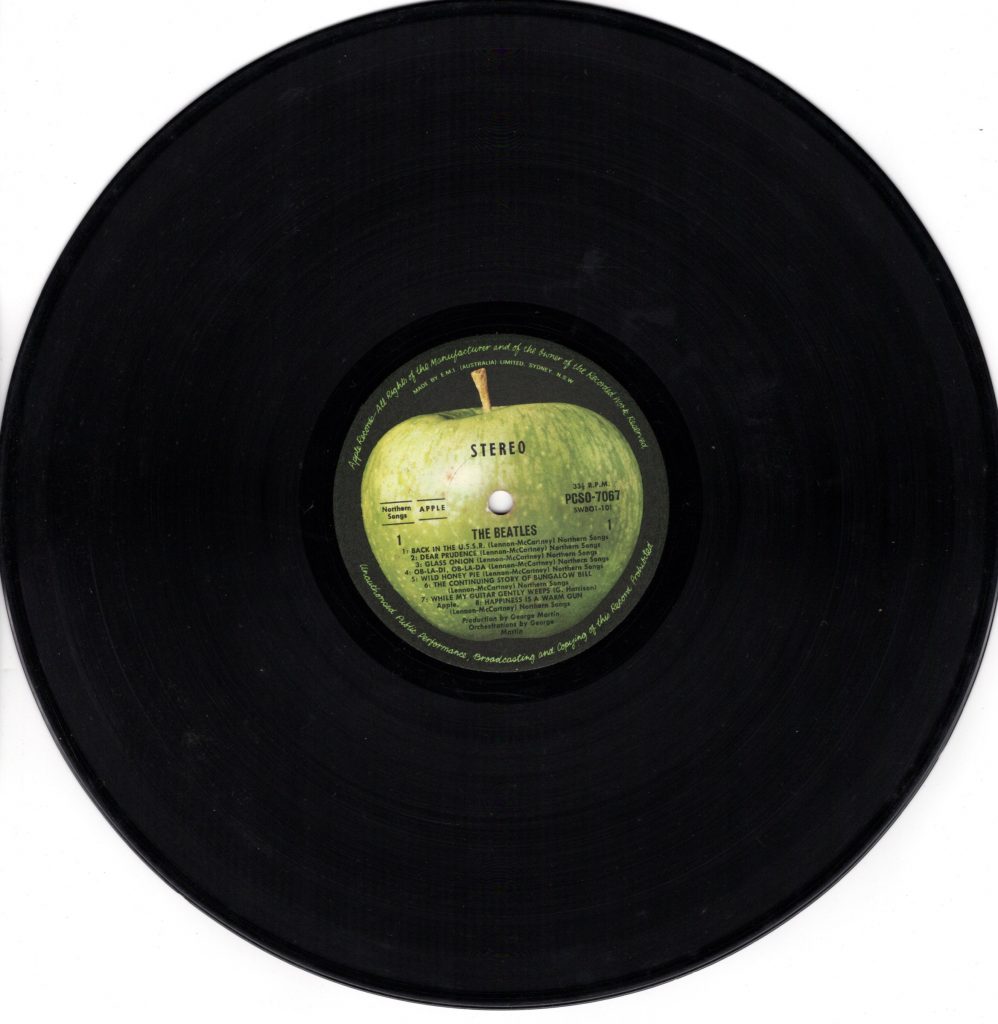 Stained, worn and held together with sticky tape. It's Number A 39599. The included poster is in poor condition. The 4 photos are in reasonable condition. The vinyl would struggle to get a G- grading, but it still has a tape label on the back with my older brother and I's initial and surname, and, after we lost our younger brother last year, this record is a keeper.
Note – I've only started to list a few of many 7″ vinyl and 12″ vinyl records on the website (along with quite a few other products like Sheet Music, Magazines, Books, Handmade Coasters and Movie promotional Flyers) so check back regularly and I'll continue listing as fast as I can. https://www.vinylgroovemusic.com.au/